MÖVENPICK HOTEL IBN BATTUTA GATE
Christmas Eve – Italiano at Sicilia!
Father Christmas may be rushed off his feet on Christmas Eve, but you don't have to be. Why not take a culinary trip to Sicilia where the chef will be cooking up a special menu of Italian favourites. Think pizza, pasta, delicious fresh meat and fish, fine cheeses and sauces 'lika momma' used to make, but with a festive twist.


T'was the night before Christmas at Mistral
And all around Mistral only laughter and merriment will be heard! As Father Christmas prepares to travel round the globe, join him, without even leaving your table. Take an international tour of fine cuisines and free flowing beverages as you ease yourself towards Christmas Day.


It's Christmas time at Al Bahou!
Come Christmas Day, pull yourself a cracker but make sure everyone is wearing the paper hats and enjoy a very Merry Christmas at Al Bahou at Movenpick Hotel Ibn Battuta Gate. Savour all the festive favourites, including traditional turkey with all the trimmings. Not a turkey lover? Then try our other delicious meats, a joint of roast beef or perhaps a roast leg of lamb with a sprinkling of thyme. There will also be international Christmas delicacies to devour. There won't be any snow but we can still guarantee a fun-filled day for all the family with Christmas music and plenty of festive cheer.


Christmas Delights at Revo Cafe
What is Christmas without the enchanting aroma of cinnamon and gingerbread? Indulge in plenty of festive favourites and tempting flavours at Revo Cafe. Besides the traditional Christmas cookies and sweets, you must also try our Gingerbread Latte, Peppermint Mocha, Spice Flat White and Pumpkin Latte available daily from 8.00AM - 10.30PM


New Year's "All Day" Breakfast at Revo Cafe
After a long night of celebrations, a good breakfast is a must for a fresh start to the new year. But don't rush yourself! We will have all your favourite egg dishes, sandwiches and sweet delights prepared for you all day long at Revo Cafe. Grab a cup of freshly brewed coffee or energizing juice and brace yourself for an amazing year on January 1st from 8.00AM - 10.30PM


Bring in the New Year with a bang at Al Bahou!
Count down to the start of the new year in style at the Gala Dinner in Al Bahou. There will be delicious food and free flowing bubbles and other festive drinks. Don't forget your dancing shoes - you can hit the dance floor and party on down to our live band. And when it comes time to bid a fond farewell to 2017, join in the celebrations and watch the stunning fireworks from the Burj Khalifa live on our big screen.


Relax your way into 2018 at Moroc Lounge & Bar!
Not an exhibitionist? Enjoy a more relaxed New Year's Eve, in the impressive surrounds of Moroc Lounge & Bar, inside the chic watering hole or outside on the grand, spacious terrace. Music will be playing out all your favourite songs, while staff make sure your glass is never empty. Hungry? Choose from an array of delicacies on the a la carte menu. Introverts rejoice!


MEET THE CHEF
Chef de Cuisine Bipul Chowdhury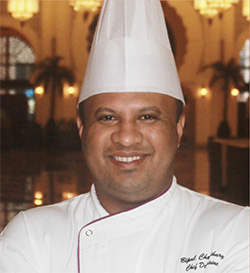 Chef Bipul was born and raised in India. Unlike many professional chefs, it was not his childhood dream and aspiration to pursue a career in the culinary world. Only at the age of 16 did he first fall in love with the art of cooking, inspired by his uncle – a professional Chef and a master of the Indian biryani (which until now is Bipul's favourite dish to cook). With almost 20 years of international experience in 5* restaurants, now he is getting ready for an exciting Festive Season at Mövenpick Ibn Battuta Gate and promises a dining experience like no other with an array of Christmas and New Year's lunches, brunches and dinners. One of the things he recommends you don't miss out is the traditional Christmas turkey which has a central place in all of the festive happenings this year along with an array of all-time favourites and brand new culinary surprises with a festive twist.
Festive Packages
7pm-11pm 24th December 2017 at Sicilia
AED 225 for a 4-course set menu with soft beverages
AED 325 for a 4-course set menu with house beverage
6.30pm-11pm 24th December 2017 at Mistral restaurant
AED 199 soft beverages
AED 299 house beverages
12.30pm-4pm 25th December 2017 at Al Bahou Grand Hall
AED 99 kids (aged 3-6 years-old)
AED 225 kids (aged 7-12 years-old).
AED 449 unlimited soft beverages
AED 599 unlimited house beverages)
AED 799 unlimited premium French bubbly
8pm onwards on 31st December 2017 for the Gala Dinner at Al Bahou Grand Hall
AED 99 kids (aged 3-6 years-old)
AED 225 kids (aged 7-12 years-old)
AED 449 unlimited soft drinks
AED 749 unlimited house beverages
AED 999 unlimited beverages
9pm onwards on 31st December 2017 at Moroc Lounge & Bar
AED 299 for free-flowing beverages (regular prices on a la carte menu)