CONSTELLATION BALLROOM
Address Dubai Marina
Celebrate with a festive feast
It's that wonderful time of year, when sparkling events and fabulous surprises light up little ones faces and young and old alike spread feelings of joy and good cheer. Embrace the spirit of the season and enjoy a host of exciting moments, delicious dining and glittering festivities at Address Dubai Marina, a spectacular winter wonderland, where all your festive wishes come true.
For a fabulous day filled with sparkling merriment and family fun, join us in the Constellation Ballroom and be magically transported to an enchanting winter wonderland. Enjoy a lavish traditional roast with all the trimmings served from live cooking stations, as well as lots of other tasty seasonal dishes. Celebrate in a glittering festive atmosphere, with lively entertainment from our band, a magician and a special visitor from the North Pole.
Boogie Back to the 80s at Shades
Put a retro twist on your New Year's Eve celebrations and get into the groove as you Boogie Back to the 80s at Shades. During a sparkling night of fun, food and dancing in the spectacular surroundings of the infinity pool, enjoy a mouthwatering al fresco barbeque buffet, and party on with stunning views of the Dubai Marina skyline. With DJ Dave Cleary playing everyone's favourite pop hits, dust off that rah-rah skirt, polish off those shoulder pads, roll up your jacket sleeves and dance the night away at a New Year's Eve celebration that'll take you back to the future.
There's a delicious dinner package available, but if you don't feel like eating, and just want a good place to have a good old party, we have a house beverage package priced at AED 350 for the night. Advanced booking is required.
MEET THE CHEF
Executive Chef Avinash Mohan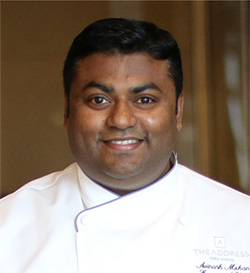 Avinash Mohan brings almost 20 years of experience to his role as Executive Chef at Address Dubai Marina. Having vast expertise working in luxury 5-star hotel chains across Europe, East Africa and Asia, Mohan is responsible for the day-to-day culinary operations and managing a team of 90 chefs across the hotel's four restaurants and bars, including coming up with new innovative dining concepts to suit the needs of all guests. Chef Mohan brings innovation and an artistic approach to food preparation. His passion for gastronomy inspires him to explore culinary dishes from all over the world including contemporary European, Indian, Italian, French, Chinese, Thai and Japanese with the latest addition being Arabian cuisine.Along with cooking he enjoys photography and exploring the nature and environment.
Festive Packages
Available 12.30pm-3.30pm on 25th December 2017
AED 345 per person including soft beverages
AED 495 per person including house beverages
AED 625 per person including bubbly
AED 150 per child below 12 years, children below 6 years dine for free
7pm-2am on 31st December 2017
AED 745 per person including dinner and soft beverages
AED 985 per person including dinner, house beverages and one glass of bubbly
AED 350 per person for house beverages only